BRMC recognizes DAISY Award winners
Category: News
Posted On:
Written By:

Baxter Regional Medical Center
Extraordinary Nurses recognized at Baxter Regional Medical Center
BRMC Q1 2018 DAISY Award winners
Miranda Trout, RN, Cline Emergency Center, and Kristie Story, RN, ICU, were the first quarter of 2018 winners of The DAISY Awards at Baxter Regional Medical Center. The DAISY Award was created by the not-for-profit DAISY Foundation to honor and recognize nurses for the outstanding effort they make to provide extraordinary care to patients every day.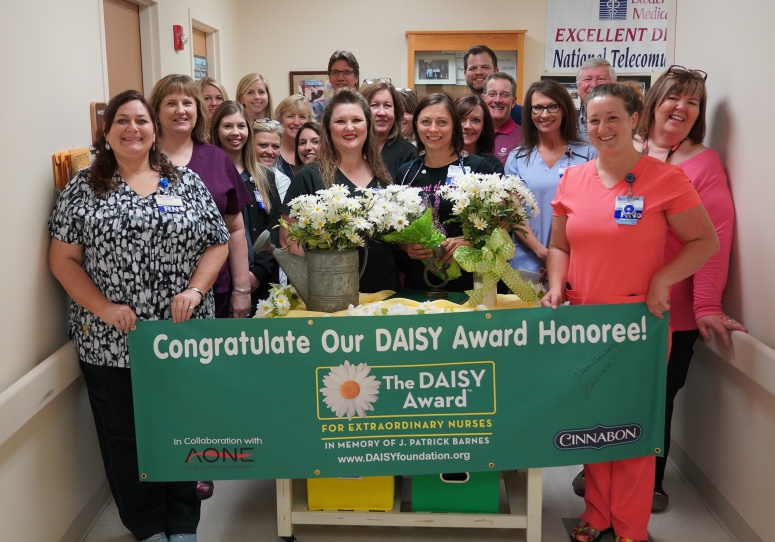 Miranda was nominated by Carilla Zirkle, RN, after Miranda went above and beyond for a patient transfer and staying late after a busy shift in the Cline Emergency Center. Carilla said, "As we were preparing my critical patient for transfer to a critical care neuro center, the paramedic asked for a nurse to ride along due to the extent of serious injuries. Miranda saw the paramedic needed help and offered to ride along to assist with patient care. This was a 2 hour trip one way, and she had already stayed over to help out. During the transfer trip, the patient's ventilator stopped working, and Miranda had to bag the patient to the neuro facility. The patient survived because Miranda was there to give excellent care to a patient in need. This is not the only time Miranda has went above and beyond for our patients. She gives excellent care, every time."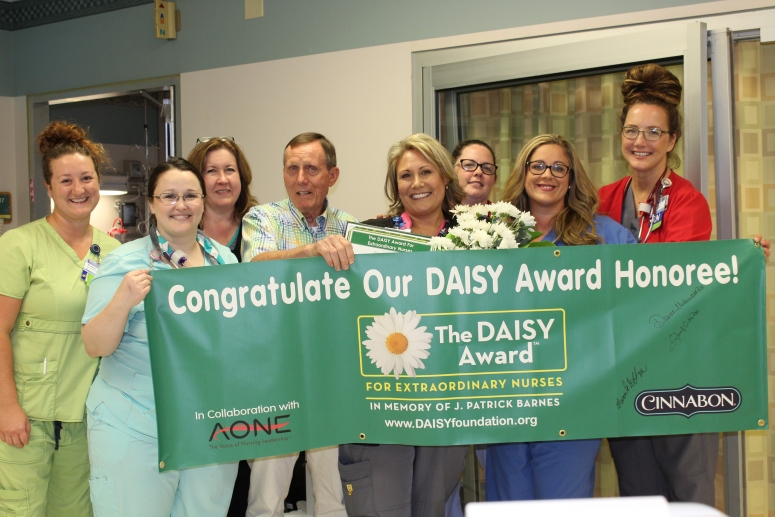 Kristie was nominated by Amanda Bordelon, RN, for her commitment to treating her patients and colleagues with dignity, kindness, respect and compassion as well as defending the dignity of, advocating for, and striving to protect the rights of her patients. Amanda shared, "One story in particular has really touched my heart. We had a patient in the ICU that was here longer than most would like to be. The physicians and nurses worked tirelessly to "cure" him of his disease process, but sometimes no matter how hard the efforts, some things just can't be cured. The patient knew it was his time. He expressed his wishes to "just go home" to Kristie, and despite some resistance from family at first, Kristie was able to make this happen for him. The patient got to go home within 24 hours. To this day the patient's family calls the ICU at least twice a week to update the nurses on his progress. In particular, the patient's family member mentioned how Kristie was "one of the kindest, most caring nurses I've ever met. She not only took excellent care of my husband, but also me and my family." I would like to recognize Kristie for all her hard work and positivity that she brings not only to her patients but her coworkers."
Nurses may be nominated by patients, families, and colleagues, and they are chosen by a committee at BRMC to receive The DAISY Award. Two awards are given quarterly in front of the nurse's colleagues, physicians, patients, and visitors. For more information, or if you have been the recipient of extraordinary care by a nurse and would like to nominate him or her, visit www.baxterregional.org/about-brmc/nursing/recognition.