Baxter Health
Since 1963, it's been our mission to provide patients with care that's compassionate and comprehensive. It's time we did the same for our brand, and we are proud to introduce the new Baxter Health.
Change can be difficult, but legacy is forever. In this new era of compassionate care, we aim to define, refine and transform the Baxter that was into the Baxter we've always aspired to be, all while remaining the independent hospital we've always been.
Our pursuit of excellence presses onward. Our commitment to compassion remains at the heart of everything we do. We continue to care in ways that can't be quantified.
Because when it feels like home, it heals like home. We are Baxter Health. Care beyond measure.
Press Release
Click here to view the press release about the new Baxter Health brand.
Logos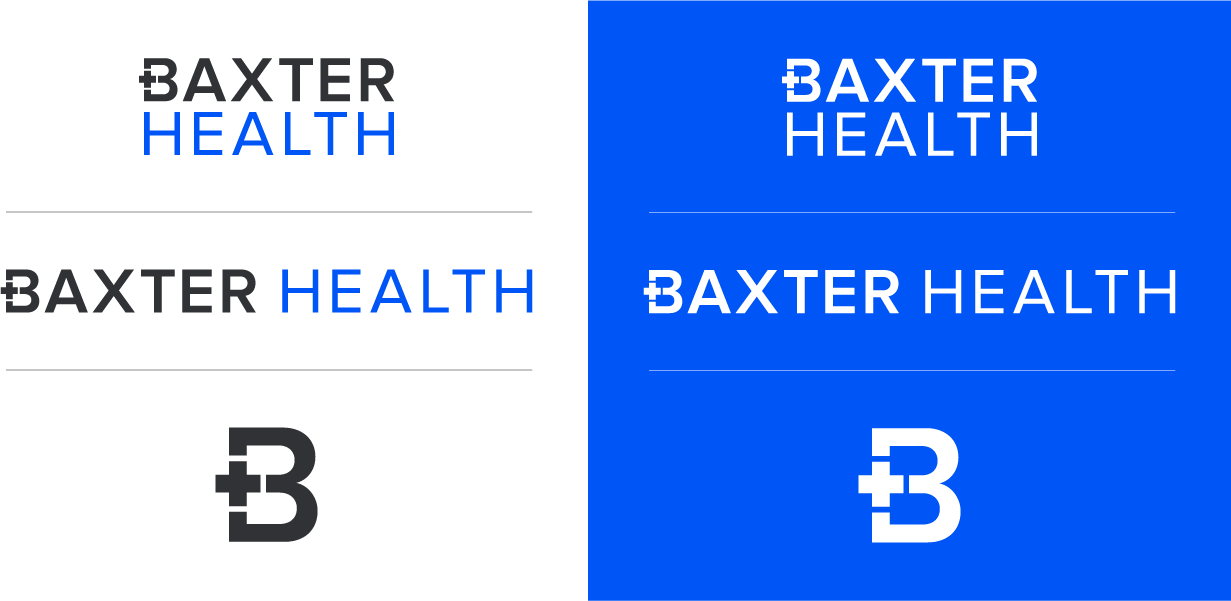 For additional logo formats and usage guidelines, please email a request to marketing@baxterregional.org.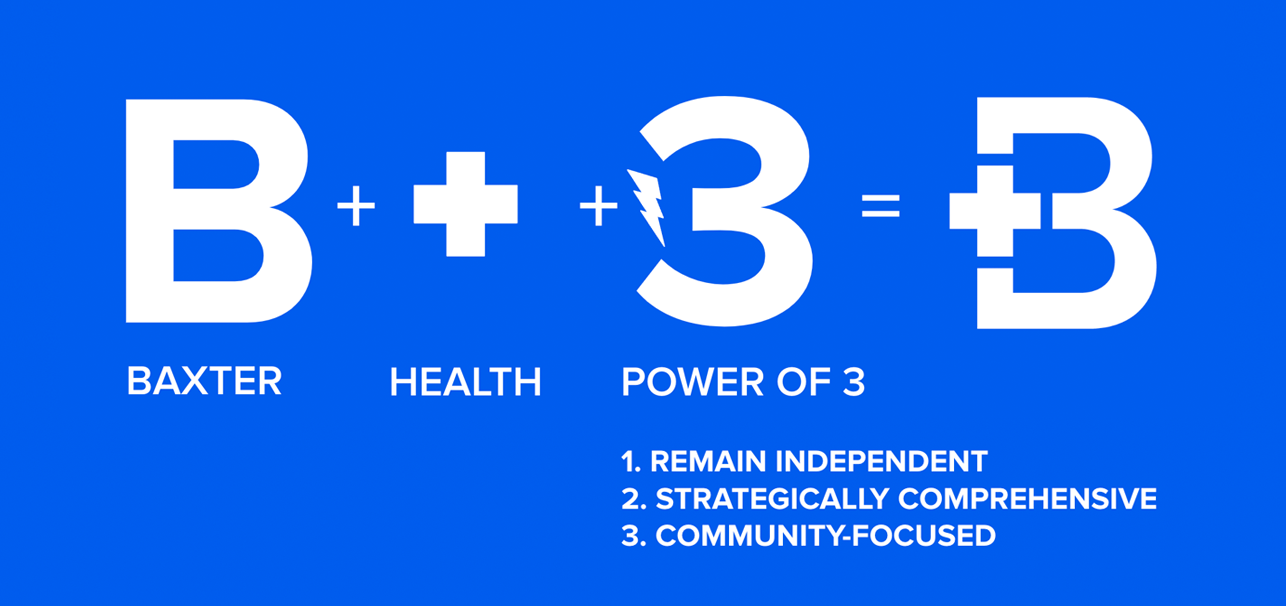 Mission
Compassionate care beyond measure.
Purpose
To champion access to compassionate high-quality care by remaining independent, strategically comprehensive and community-focused.
Values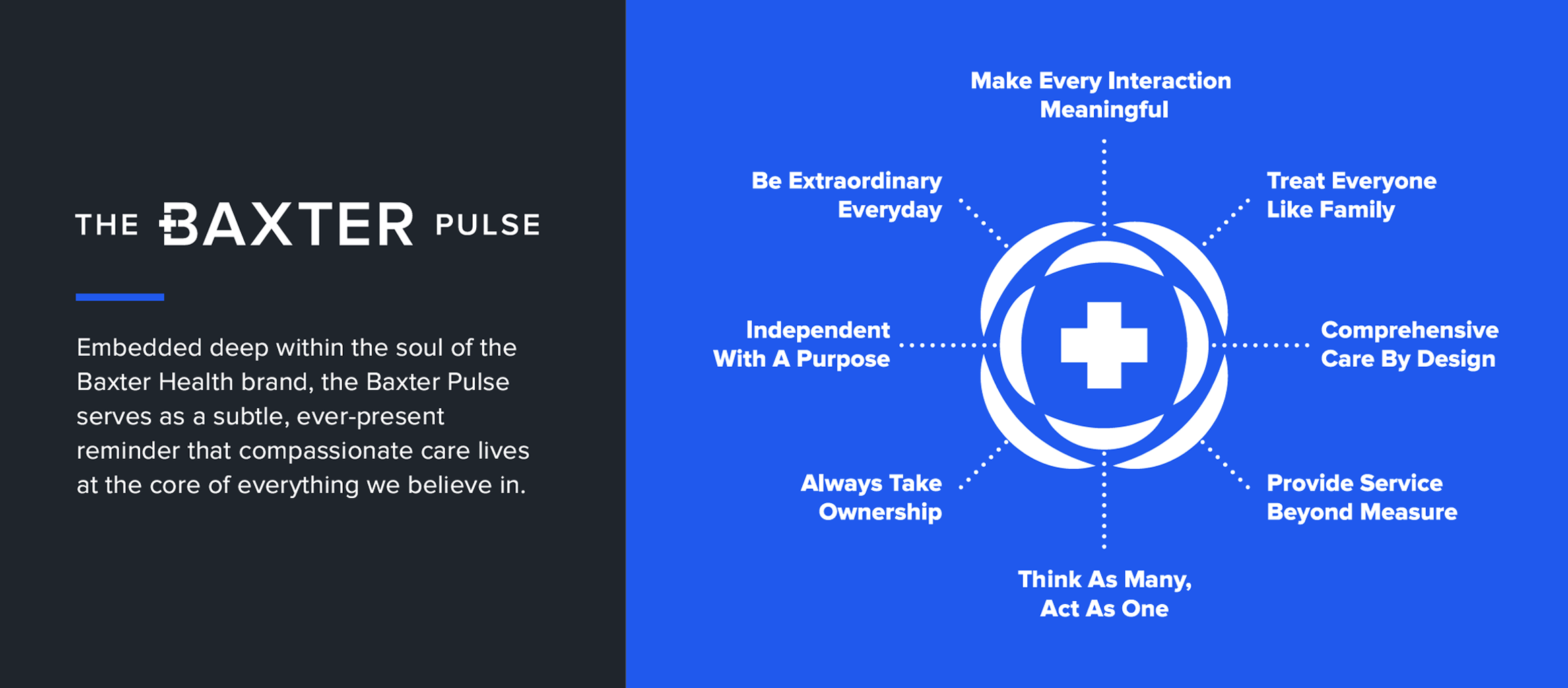 Make Every Interaction Meaningful
Act with a servant's heart. Our culture is something that we grow through action, not words. Let's be intentional in our actions to serve those around us. We make it a point to say hello, know patients and colleagues by name, and ask how they're doing. This is the Baxter Difference.
Be Extraordinary Everyday
We're always on the lookout for opportunities to be exceptionally unique, authentic, and uncommon with our actions. When we engage, we engage fully. When we act, we act with intention. Everything we do, we do wholeheartedly. Our extraordinary efforts leave patients and families with memories they'll cherish forever.
Provide Service Beyond Measure
We use every moment as an opportunity to leave an indelible mark on our patients and each other. It's our promise to one another to faithfully seek out new knowledge and perspectives that challenge our embedded views on health and wellness. Only by embracing these experiences (and sometimes setbacks), can we arrive at a deeper level of understanding, and more informed relationships with our patients.
Comprehensive Care By Design
We aren't just one hospital, but a family of interconnected healthcare facilities and providers that offers head-to-toe compassionate care. For every patient who walks through our doors, we have a doctor or specialist who's prepared to win trust, treat illness, and deliver them back to ordinary life. Treatment could start here and now – or a few counties over. At Baxter, where there's a diagnosis, there's direction.
Treat Everyone Like Family
We are a huge part of the communities we serve, and likewise, they are a huge part of us. Therefore, it's critical that we remain community-minded in all that we do. Whoever needs our care, be they a neighbor, old friend, or someone just passing through town, let's treat them like family. Providing compassionate care that feels like home.
Always Take Ownership
While compassion and excellence are the heart and soul of our organization, pride is the backbone. Every day, we live up to our Magnet status and stellar reputation by putting the Baxter Difference into action. We lend a hand when help is needed. We show leadership in times of uncertainty. We make patients, colleagues, and communities better – simply by being Baxter.
Independent With A Purpose
Because we're independently operated, we are able to act quickly, decisively, and in the best interest of our staff, patients, and surrounding community. Less red tape. More open doors. No unnecessary corporate mandates. Only compassionate care. Trust and transparency is simply how we operate. In good faith, and for the greater good of our Baxter family.
Think As Many, Act As One
We share a common purpose: to significantly affect every life we touch in a meaningful and positive way. Our ability to sustain this impact is derived from our commitment to working in the same direction as one. Though we're each accountable for our own responsibilities, each of us must recognize our role and reliance on each other in achieving operational excellence. Through this interdependence, we'll not only work harder, but also work smarter.
"We want the communities we serve to understand we have not sold. This change is to simplify things for patients and to migrate towards a more inclusive health system for the 11 counties that we serve. The new mission, purpose, values, and branding will begin rolling out immediately; however, the entire transition is expected to take three to five years in order to be financially responsible."
- Barney Larry, VP/Business Development and Executive Director, Baxter Health Foundation